Want To Impress Your Friends ? Use This Raw Food Recipes
|
You can impress your non-raw food friends with this Raw Food Recipes
With this Raw Food Recipes you can impress everyone. Especially the sweet raw food is awesome and everybody likes sweets. It is so much better for them as well because
no sugar is used and it is healthy . . And you want your friends stay healthy, don't you ?
They will wonder how delicious raw sweets can be and love them. They sure will come back for more and you never will need to encourage them anymore.
Get started and invite them to the party .
have fun!
Use This Raw Food Recipes to impress your friends
Raw Chocolate Brownies

Honestly, who can resist chocolatey treats? I guess there are relatively few who can, but hey, brownies are amazing! And this raw brownie recipe will be hard to keep for long because they'll be gone before you know it. They're that tempting.
To prepare these yummy brownies, process pecans in a food processor, then add dates and continue processing until the mixture thickens. Place all the other ingredients in the food processor with the mixture and process some more until it becomes chocolate-like brown but not too buttery. Press down the brownie mixture firmly into a dish and chill for a couple of hours or so before serving to your friends.
Raw Vanilla Drop Cookies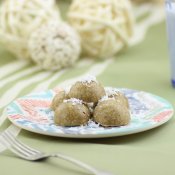 Little somethings can ignite a spark of interest, and these raw vanilla drop cookies are the perfect little sweet bombs to drop on your friends' unsuspecting taste buds. They don't look like they're made raw ingredients, and they don't look too "raw" daunting for non-raw foodies either.
Their simplicity is exciting. Simply mix tahini, maple syrup, coconut oil, pure vanilla extract and sea salt together in a bowl until well combined. Add shredded coconut and mix well before scooping drops onto a cookie sheet and freezing for at least half an hour so that they will firm up. It's best to store these sweet vanilla drops in the freezer (if there's any left at all).
Raw Strawberry Cheesecake you can find here >BEST RAW FOOD RECIPES TO IMPRESS YOUR FRIENDS
Images from Rawtarian
Also see 12 Yummy Recipes The Ultimate Raw Vegan Temptation You Need To Try