Awesome Raw Vegan Recipes You Can Prepare Quickly
|
Prepare Raw Vegan Recipes in minutes
These raw vegan recipes are even faster to prepare than getting fast food. It takes only minutes and they are ready. If you have a busy day and need a fast meal you must try them. Even as a snack or a quick surprise for unexpected guest are these raw vegan recipes a hit. Everybody will love to choose some of them and try how raw vegan food tastes. Who does not like natural fresh nutritious food with all the vitamins still in it? Get the ingredient best organic and at the local farmers market.
See below all variety of awesome raw vegan recipes savory, spicy and even some to use for a dessert. The pear squash puree with nuts will satisfy your sweet tooth.The Akai bowl could be a quick breakfast which makes feel satisfied for hours. Have fun with the preparation of these awesome raw vegan recipes.
Awesome Raw Vegan Recipes You Can Prepare Quickly
You can make raw "rice" by pulsing nuts, parsnips, cauliflower, or, in this case, carrots, in a food processor.
This recipe's secret ingredient is coconut aminos, which are similar to soy sauce but lower in sodium. You can find this tasty, amino acid–packed condiment at natural-food stores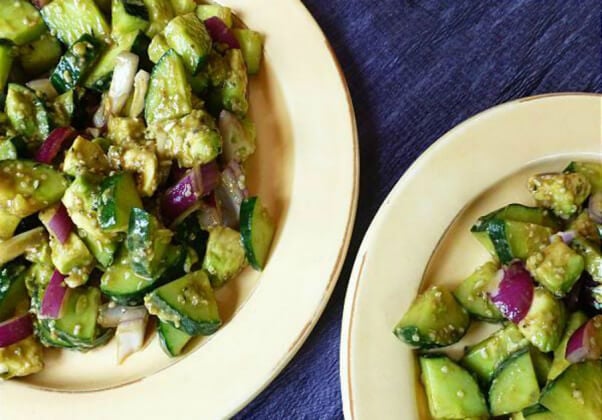 <
Such a pretty side dish, this would be perfect on a vegan Thanksgiving table.
You only need a few ingredients—including kale, mushrooms, and olive oil—to make this masterpiece.
Mushrooms, olive oil, soy sauce, and sesame seeds are really all you need.
Coconut water, dates, acai, and blueberries help to round out this delectable and healthy smoothie bowl.
© Soul In the Raw More Recipes here >Recipes in 10 Minutes or Less
FRESH, QUICK AND EASY RECIPES RIGHT FOR THE SEASON
10 QUICK RAW FOOD RECIPES USE A FOOD PROCESSOR
Take the 14-Day Challenge click here
If you need help with losing weight and keeping on track, the Bright Line Eating program is a great program to support. It is based on cutting edge psychology and neuroscience. Susan Peirce Thompson, Ph.D. It is focused on establishing healthier eating habits and is also compatible with a vegan diet.