3 Exceptional Healthy Raw Food Recipe
|
Try these 3 exceptional healthy Raw Food Recipes
This raw Avocado dessert recipe is healthy and something everybody will love . Avocado is one of the fruits who makes a dessert creamy and smooth. Avocado has no cholesterol ,it in contrary even helps to lower the cholesterol level in the blood and increases the metabolism and regulate the blood sugar level. It has very beneficial properties for our health and this is why we can eat this  dessert without regret. All the other ingredient are nutritious as well .
The Mango fruit juice is also has a twist it contains pieces of pickled mango and is spiced with Chaat Masala. Mango is a very healthy fruit and is used to make juices and smoothies as well as pickles. It lowers cholesterol levels alkalized the body and improves digestion. Aamras is the pulp of the tropical fruit Mango eaten in India.
The shaved Butternut Squash, Asparagus, and Treviso salad is a healthy , colorful meal. Butternut Squash and Asparagus are fine shaved and absorb the dressing .Vegans can use vegan cheese instead of the goat cheese. Eat with bread ,try one of our raw vegan bread recipes. Enjoy !
 Healthy Avocado Dessert Recipe
Try Young's raw avocado key lime pie recipe
Read the whole here: Try This Healthy Avocado Dessert Recipe
Aamras with a twist
Aamras or Amras is the pulp of the tropical fruit Mango eaten in India.
(Serves 1)
The aamras uses mango pickle for a spicy-sour taste that complements the sweetness of mixed fruit juice.
Add 2 pieces of mango pickle, 120 ml of mixed fruit juice, 15 ml of lime juice and a pinch of chaat masala in an old-fashioned glass, and stir well. Add ice. Garnish with raw mango slices.
Courtesy: Subbaraman G, beverage manager, Barbeque Nation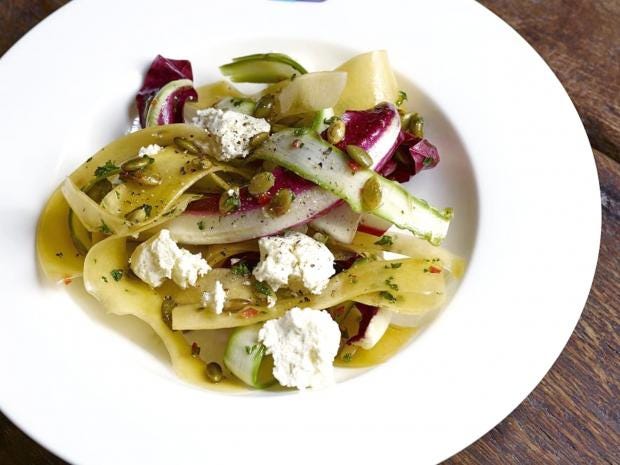 This is a healthy and colourful salad that dovetails with the current trend for raw food. The great thing about it is that it takes just a few minutes to knock up, and looks and tastes really impressive. Our Wye Valley asparagus was extra-extra early this year, which I'm sometimes cautious of – but the flavour was fantastic.
Whisk all of the ingredients together for the dressing and season to taste. Toss the treviso, squash and asparagus in half of the dressing, season and leave to stand for 5 minutes so the flavours meld.
Arrange on individual serving plates or a sharing bowl, then spoon over the rest of the dressing and scatter over the cheese, broken into little nuggets.
Source > http://www.independent.co.uk/life-style
Also read Enjoy These Raw Vegan Meals If You Have Lunchtime