5 Of The Best Raw Vegan Bread Recipes
|
Try this best raw vegan bread recipes
Here are the best raw vegan bread recipes you have been looking for. There is a big varitety of raw vegan bread recipes and we found some for you we think are special like the Moist Sprongy Loafs or the gluten-free Sandwich bread really are delicious and a bit different because most of the raw breads are flat and cracker like.The color and ingredients of Lucky Hemp Bread look inviting and mouthwatering and this Corn-Oat Flatbread is nice and moist and can be kept frozen to have it always handy.
For most of the Raw Vegan breads we need for the preparation a Dehydrator ,but  the Corn-Flat bread does not need a Dehydrator it is possible to let it dry in and oven and it will not be like a cracker and remains moist. Flaxseed Oats and Corn give it a hearty taste of fresh grain.
It is good the have always a varitey of raw bread either frozen or stored in a airtight container whenever needed with a a nut butter vegan cheese a spread or veggies it is a healthy and nutritious snach or lunch. Raw bread is versatile and can be eaten with spicy dips or sweet spreads. Try these 5 raw vegan bread recipes ,make them all and store them to have always a tasty healthy snack ready.
You may also be interested in Raw vegan wraps
Easy Raw Vegan: Corn-Oat Flatbread (no dehydrator needed)
I always keep some kind of flatbread in my fridge. It makes for yummy open-face sandwiches of all different varieties (just type "bread" in the search box at the top left corner of this page and you'll get a bunch of ideas!) and definitely helps for a quick meal when I don't have time for anything else.
The corn in this recipe adds the perfect amount of sweet, and also lends to making a more pliable flatbread. Make this bread and stay tuned, because this Friday I'll be sharing something pretty darn amazing to pile on top of it!
Continue for step by step here> Easy Raw Vegan: Corn-Oat Flatbread 
RAW BREAD RECIPE – MOIST SPONGY LOAVES
This raw bread recipe uses psyllium husk to give it a nice spongy texture. A dehydrator is required.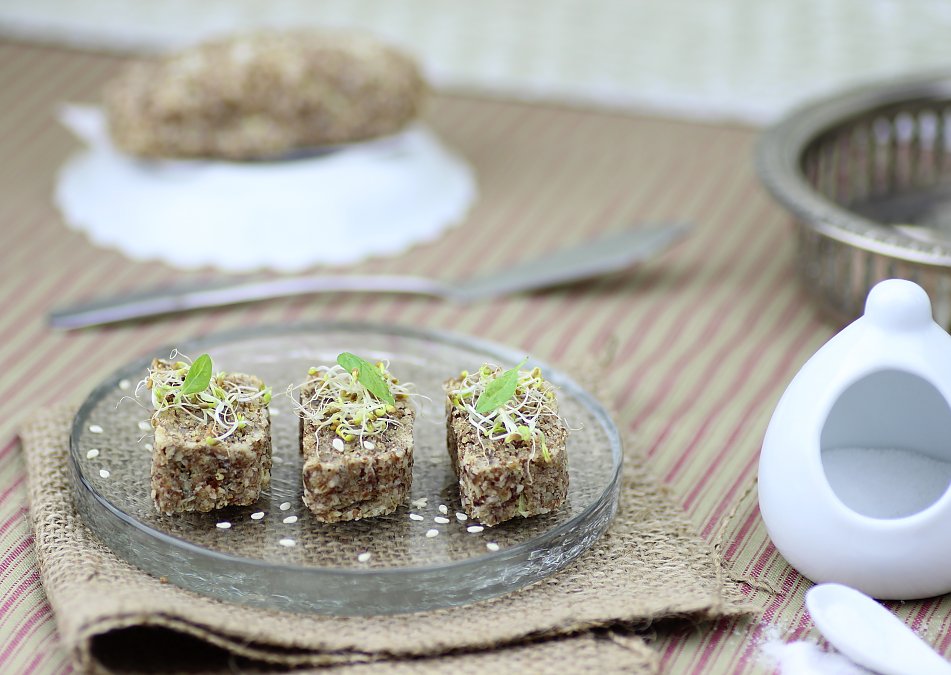 Recipe Directions >RAW BREAD RECIPE
RAW ONION BREAD RECIPE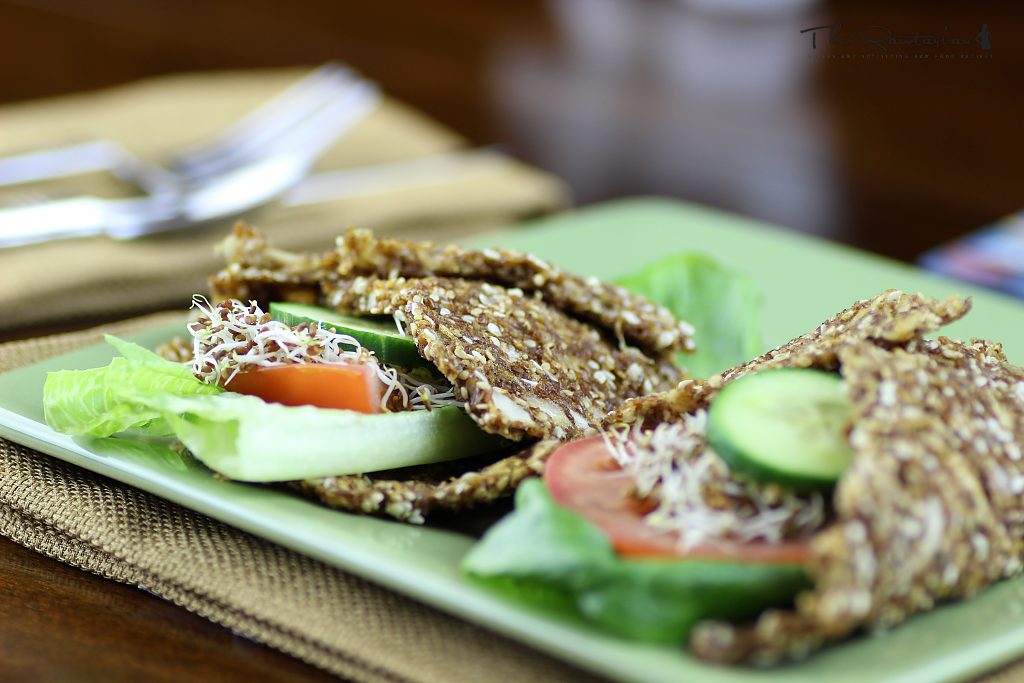 Recipe Directions >RAW ONION BREAD RECIPE
Raw, Gluten-Free Sandwich Bread [Vegan]

With little effort I soaked, blended and molded the bread into a small yet beautiful little loaf. I turned the dehydrator on for the night and by this afternoon we were making a sandwich with 100% raw, gluten-free, vegan & kosher sandwich bread. It was absolutely delicious and turned out better than I'd hoped for. You will hardly believe it is raw!
PREPARATION>RAW, GLUTEN-FREE SANDWICH BREAD [VEGAN]
Lucky hemp bread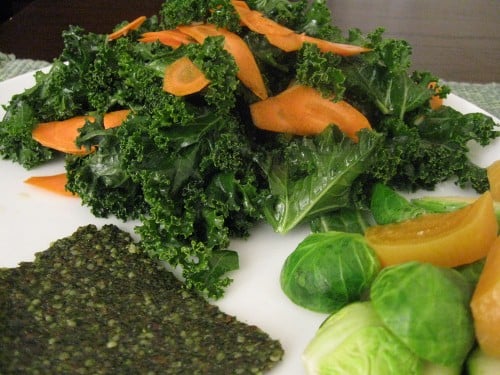 Lucky Hemp Bread (makes 6-8 slices)
Ingredients, 3/4 + 1/3 cup hemp seeds, 3/4 cup flax seed, ground in a coffee grinder or spice mill, 1 tsp sea salt, 1 tsp Spike (or other favorite mix of savory herbs and spices), 1 tbsp lemon juice, 1 tbsp flax oil, 1/4 chopped onion (optional), 1 cup spinach
First, mix the 3/4 hemp seeds and flax in a food processor with the sea salt and the Spike or herb mix. Add lemon juice, flax oil, onion if using, and spinach, and mix again, adding water as needed. You want the mixture to moist and dough-like, but not at all runny or overly sticky.
Remove mix from processor and stir in remaining 1/3 cup hemp seeds. When it's well combined, check the dough for taste, and add salt, spices, or water as needed.
Flatten to 1/4 inch on two paraflex sheets in your dehydrator. Dehydrate overnight (6-8 hours). Turn the bread over by putting another paraflex sheet over the bread, and then flipping the whole thing. Dehydrate for another 6-8 hours, or until bread is very dry and firm, but still pliable. Cut into slices (I used a pizza roller) and enjoy.
Serve as a sandwich bread, with salads, or as a raw snack. Here, I served it with some kale salad and steamed brussels sprouts:
Recipe source>Lucky hemp bread
Also see Awesome Raw Vegan Bread And Cracker Recipes For A Healthy Snack